Louisiana cottage food laws are not easily navigated, nor easily understood due to changes way back in 2014 and the lack of updates since then.
However, Louisiana state allows you to start a cottage food businesses from home almost instantly
After much research and the reading of the poorly written legalese that makes up the Louisiana laws and codes – the following is what I've gathered.
This is the "simplified version" of Louisiana Cottage Food Laws.
HOW TO START YOUR COTTAGE FOOD BUSINESS IN LOUISIANA – LICENSING

Louisiana makes it pretty easy to get started and grow your new cottage food business. It seems the state's priority is to collect sales tax and hence the vague and confusion in the codes.
COTTAGE FOOD BUSINESS REQUIREMENTS
(a) Register your business and get a Louisiana General Sales Tax Certificate from the Louisiana Department of Revenue.
(b) A local sales tax certificate from the local taxing authority of any jurisdiction in which he intends to sell foods. (Contact your city or county office)
No food safety training or certificate required
Sales limited to $30,000 annual gross revenue
Food is semi-limited to "low risk" foods only – this is standard across the country as all cottage food operations are limited to non-potentially hazardous / TCS foods. (see allowed foods below)
Some foods can be sold for re-sale as well as directly to consumers
Food labels are required (see labeling below)
STEPS TO START TODAY
Review list of non-potentially hazardous foods that are acceptable (below)
Contact your city / county about a business permit or license and local sales tax certificate
Review food safety information below
Start making money!
It is better to ask for forgiveness than beg for permission

– someone once said
FIND AN ERROR – GET A SPECIAL GIFT
If you find an error, omission, mistake, broken link, any outdated information or an addition that we missed – simply email me at [email protected] a link to the page and any information and I'll send you something awesome.
LOUISIANA COTTAGE FOOD LAW – Foods That Are Allowed
The following is a list of some of the foods allowed under Louisiana's cottage food laws.
If you do not see an item you want to make – you can attempt to get information or clarification from the Louisiana Agriculture Department 1.866.927.2476 or contacting the Louisiana Department of Health 225-342-9500. (Neither of which have information on their respective webpages about cottage foods)
Baked goods, including breads, cakes, cookies and pies
Candies
Dried mixes
Honey and honeycomb products
Jams, jellies, and preserves
Pickles and acidified foods
Sauces and syrups
Spices
The Federal Government uses acidity levels / pH levels to determine a food's safety for sales without refrigeration.
Below you'll find out how to confirm your foods are safe to be made in your home-based processing business.
Louisiana Cottage Food Laws give specific instructions to cottage food operators about refrigerating custard and cream filled cakes and pies which implies they are allowed. (Not allowed in other states) – these types of foods are often considered potentially hazardous.
Quote Directly From The Louisiana Cottage Food Laws
(5) All custard or cream-filled mixtures shall be cooked, the temperature and time of heating of the mix, to be at a minimum, the equivalent of a temperature of one hundred forty-five degrees Fahrenheit for a period of not less than thirty minutes.
(6) Upon completion of the cooking of the mix, it shall be immediately transferred into previously sanitized containers, properly covered and chilled as rapidly as possible to forty-five degrees Fahrenheit or below and maintained at such a temperature until used.

hb 1270 – in full context or as amended here and here
Real Life Cottage Food Entrepreneurs and Opportunities
LOUISIANA COTTAGE FOOD LAWS – PROHIBITED FOODS
Raw doughs
Acidified, low acid canned foods
Meat
fermented foods
juices
Salsa
Sauerkraut
NOTE: Although eggs, milk and dairy products are not allowed, used as ingredients for the allowed foods – is acceptable.
Many prohibited foods that are baked or cooked into the allowed foods are rendered harmless (non-TCS) and therefore allowed.
LOUISIANA ANNUAL SALES LIMITS
Louisiana puts an annual cap on the income you can make.
Currently this is set at $30,000 annually which isn't enough in my opinion to catapult your business into a full-fledged retail or commercial business.
Most states that set caps higher like Kentucky – do this to inspire and encourage you to grow beyond cottage foods into a wholesale / retail business.
Below is what Colorado created to help cottage food entrepreneurs grow beyond cottage foods once they've reached the annual income limit.
Some cottage food businesses have gotten a new license in another person's name in the home so as to expand the amount of income that can be made.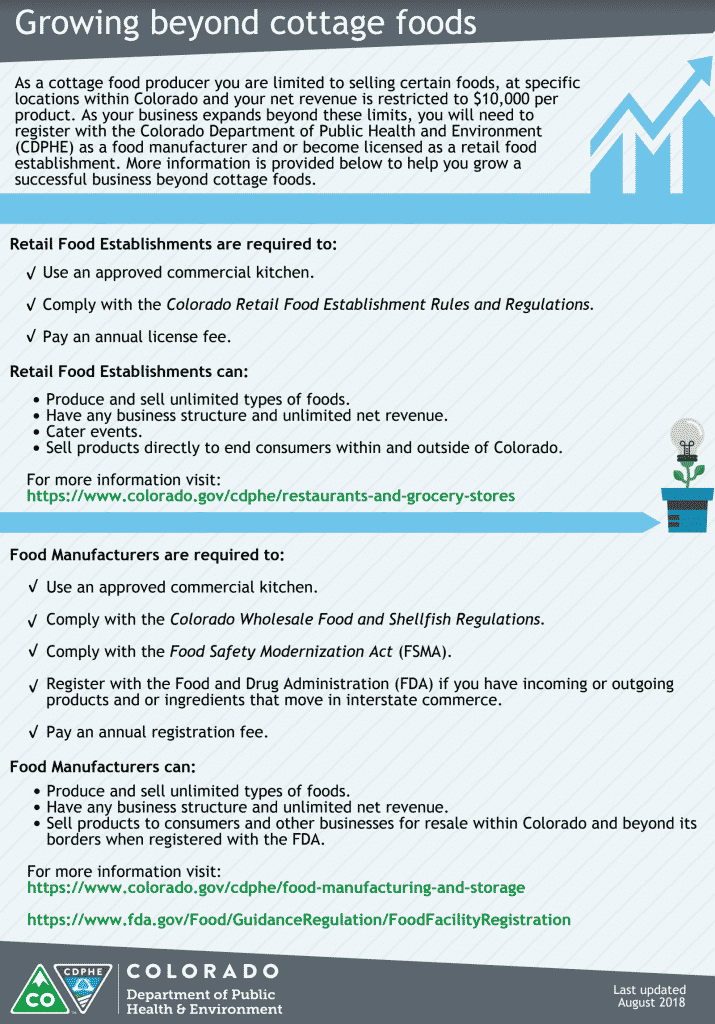 ACIDITY LEVELS AND TESTING
Most states determine if a food is non-potentially hazardous by the acidity level found in the food. The higher the acidity, the more stable at a range of temps, that food product is.
For example: milk is low acidity and requires temperature controls.
The acidity of foods is measured by pH.
• The range of pH is commonly considered to extend from zero to 14. A pH value of 7 is neutral because pure water has a pH value of exactly 7. Values less than 7 are considered acidic, while those greater than 7 are considered basic or alkaline.

• All fruits are acidic foods and are usually tart and sour. Ex: tomato, lemon, peach, apple, etc.

• The FDA rule for acidic foods states that a food must have a pH below 4.6 to be sold as a minimally processed food.

• The reason for this is bacteria does not grow at this level of acidity.

• The exclusion shall not be construed as allowing the sale of low acid foods (pH > 4.6) in
hermetically sealed containers (i.e. home-canned green beans, peas, etc.) when such
food is not prepared in a permitted establishment.
TESTING
Some states require testing if the pH level is unknown. For many food products, the pH level is already known.
You can test for pH yourself using a pH spear tester. (make sure it is made for food and has a long spear tip).
Oklahoma State University shares an awesome guide for selecting the correct tester for foods and liquids which includes tips and tricks for operation and maintenance. Get The Guide Here.
LOUISIANA COTTAGE FOOD LAW LABELING REQUIREMENTS
Louisiana requires all home-based processors to label their food items.
However they only require labels: The label must have a statement that "clearly indicates that the food was not produced in a licensed or regulated facility."
e.g. This product was produced in a cottage kitchen and not a licensed or regulated facility.

Cottage food operators will benefit from the advertising this does for them and it shows your customer you care. I would never send out anything without a label.
Home-Based Processor Labeling Requirements
The following information is what other states require on their labels of each food product:
The common or usual name of the food product.
The name and address of the home-based processing operation, including the street address, city, state, and zip code.
The ingredients of the food product. Ingredients shall be in descending order of predominance by weight.
The net weight or volume of the food product by standard measure or numerical count.
The following statement in 10-point type: "This product is home-produced and processed."
The date the product was processed.
Allergen identification for all ingredients that contain any of the Major Food Allergens known as The Big 9 Allergens: milk, eggs, wheat, soybean (soy), peanuts, tree nuts, fish , sesame seeds, and shellfish.
Using VistaPrint.com or similar – you can quickly create professional labels that not only serve to meet the state cottage food guidelines but also serve for marketing your awesome business and products.
You'll find some fantastic examples of this from members inside VendorsUnited.com
EXAMPLE OF Kentucky Home-Based Processor Label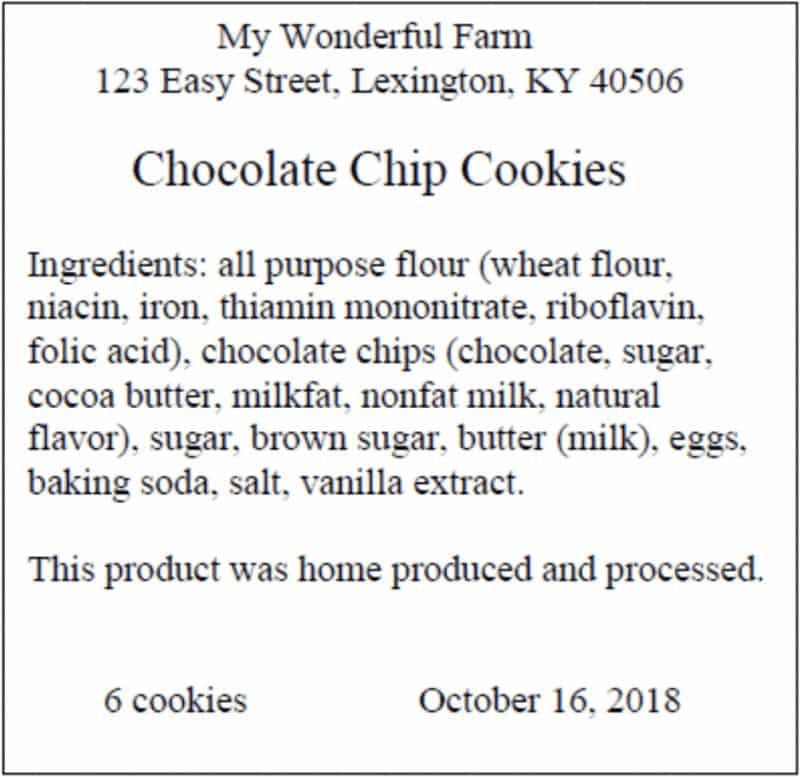 ALLERGENS ON LABELING
The FDA lists nine (9) major food allergens. Listing any of these on your label is a smart business practice and will certainly help your customers choose a product.
Milk
Eggs
Fish (e.g., bass, flounder, cod)
Crustacean shellfish (e.g., crab, lobster, shrimp)
Tree nuts (e.g., almonds, walnuts, pecans)
Peanuts
Wheat
Soybeans
Sesame seeds
Simply add to your label: "CONTAINS: SOYBEANS" Some go as far to announce that a certain allergen is used in the same kitchen.
Some states require you list any potential allergens and potential for any cross contamination even if the allergen is not used in the recipe.
FDA Allergen Labeling Example: Contains Wheat, Milk, Egg, and Soy
WHERE CAN I SELL MY COTTAGE FOOD PRODUCTS
Louisiana Cottage Food Laws – Sales Rules
Products can be sold directly to consumers within this state including from the processor's home by pick-up or delivery, a farmer's market, a roadside stand, fairs, festivals, community events or online and even retail (except as the excerpt below states):
Present law provides that no preparer of cakes or cookies to which present law
applies shall sell such food products to any retail business or individual for resale. Proposed law retains present law and extends to home-based preparers of breads and pies the prohibition on selling foods for resale.
Inside kitchenincome.com you can find out how many cottage food entrepreneurs are getting sales faster than they can make the food.
COTTAGE FOOD LAW RESTRICTIONS
Annual sales limited to $30,000
If you are making / baking: cakes, cookies, pies and breads;

you can not employ anyone for assistance in the preparation
anything requiring refrigeration – fridge temp must be kept at 45 degrees or less
no pets or animals allowed in cooking area – at any time
FOOD HANDLER TRAINING AND BEST PRACTICES
Louisiana cottage food law does NOT require you take a food safety and handling course. However, knowing the safe handling practices will protect you and your customers.
There are many short courses you can take online and actually get certified and be able to share that with your customers.
Many of our VendorsUnited.com members are proud to display their food safety certificates as a way to insure their customers that they care. This helps your business.
SAFE PRACTICES
Much of this may seem like common sense, but even if you already know, it's a good idea to remind yourself with a list of things that can prevent you from missing something small. And if for no other reason… CYA! CYA = Cover Your A#%
CLEAN WORK AREA / WORK SPACE / SANITIZATION
Providing safe to eat foods from your kitchen – starts in your kitchen.
Keep your area clean and sanitized to avoid cross contamination and to insure you provide your customers and clients with the safest and best foods they can get.
The following are some "common" sense things you can do to insure the best environment for preparing foods to sell:
​Keep all equipment and surface areas clean and sanitized
Make sure window and door screens are bug proof with no gaps
Keep ingredients separate to prevent cross contamination / e.g. raw eggs near flour
No pets in work area and preferably none in the home
Allow no-one with a cold, sniffles or sick in kitchen while preparing foods
Wipe down walls and clean floors daily
Use good lighting to avoid missing unclean areas
Keep window and door screens in good repair to keep insects out
Wash hands frequently while working and use food grade gloves for extra safety
Keep areas of food storage and equipment storage clean and sanitized
RECORD KEEPING
Why keep these types of records?
Let's say the inspector calls you and says they got a report that your banana bread, someone purchased, made them sick.
You'll be able to show that you didn't even make banana bread that week and that the person who reported you, bought that 4 weeks ago and you weren't even the one that sold it to him.
This does not need to be complicated. I love my yellow legal pads and they make an inexpensive tool for keeping up with the following:
The recipes you use including ingredients
The process you use to prepare that specific recipe: (can be just like recipe instructions)
Date made (can be coded for your own use only if your state doesn't require the production date) e.g. Made 12.22.29 = 292212
Date sold (you can have a batch code to help track a certain batch) Simply write down date you sold an item
Location sold is another great piece of information to keep track of
Sales receipts are something great to keep for a couple of reasons and over at KitchenIncome.com I dive into the best practices, best systems and best methods for tracking, managing, selling and shipping.
COTTAGE FOOD lIABILITY INSURANCE
We live in a society that likes to sue. I can sue you for wearing that color shirt. No kidding! Of course I probably won't win, but at the very least, it's gonna cause you stress and some costs.
Liability insurance is a MUST.
It can be expensive – but several years ago, I found FLIP and by far, they gave me the most protection (coverage) and allow you to run your cottage food business without fear of being sued.
WHY? Because they provide the lawyers. And their lawyers… they are good!
Of course you should price shop around with your local agent or a national brand company, but rest assured, I've done all the legwork for you.
Alternatively, some folks opt to get bonded. You've heard the saying before: "licensed and bonded". A bond is usually provided from an insurance bonding company or your own insurance company.
My first time, I got a bond at State Farm.
A bond is expensive comparatively but is less out of pocket in the beginning. Of course, it's way, way less insurance / coverage too.
A $10,000 bond may cost $50 annually while a $2,000,000.00 liability policy may cost a few hundred a year.
No matter what you decide… knowing you're insured against frivolous lawsuits is worth every penny.
LOUISIANA COTTAGE FOOD LAWS IMPORTANT LINKS
LOUISIANA COTTAGE FOOD CONTACT INFO
I've yet to find a real contact for anyone over or knowledgeable about the 2013-2014 Cottage Food Laws in Louisiana.
You can call Louisiana Agriculture Department 1.866.927.2476 or contact the Louisiana Department of Health 225-342-9500 – neither of which have cottage food information on their respective websites.
My best advice would be to contact your local county health department and speak to one of the restaurant inspectors.
However, keep in mind… they likely will not know either and may give incorrect information unintentionally. Always ask for proof or verification in the codes for anything they might tell you.
UPDATES TO lOUISIANA COTTAGE FOOD LAWS
From time to time, links, info, rules and numbers change, are updated or made obsolete.
Although I spend time daily with hundreds of vendors (many of which are cottage food businesses) – I can miss an update.
If you find a broken link, outdated information or any other issue… please let me know and I'll send you a special gift for helping me maintain the best site on the internet for the cottage food industry.
My goal has always been to have a central place that is absolutely free for those starting out or existing entrepreneurs who use their homes and kitchens to make real incomes.
Please send to [email protected] / or post inside the private VendorsUnited.com group.
Need more resources? Check it out HERE (Helpful Resources)
Take a peek at the best vendors on the planet, the community that rocks the food vending world: Vendors United…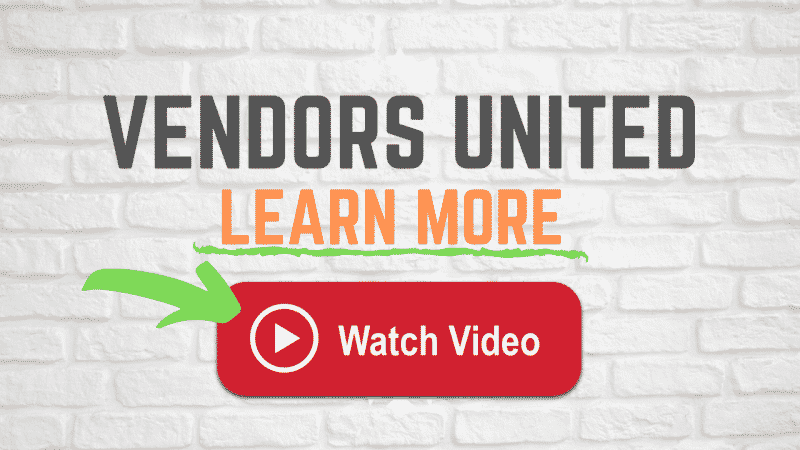 Disclaimer
This information is provided to help those interested in starting a cottage food business. It is not a document made by the state government. This information is not provided as law nor should be construed as law. Always use the contact information for each state to confirm compliance and any changes.
Did we help you? Help us to share this information…